During the Easter break I travelled to Arizona to take part in a "Lifescale Prototyping and Participatory Steering of Complex Adaptive Systems" workshop. This opportunity emerged from an earlier CECAN workshop that took place in Surrey UK, organised by Alex Penn, which aimed to take initial steps towards building an international community interested in developing innovative, complexity-appropriate aids to help people understand and steer their own complex systems. Workshop participants were an eclectic group of academics and participatory practitioners from Mexico, Japan, Germany, UK and Australia. We were hosted by Sha Xin Wei and Brandon Mechtley at Arizona State University's Synthesis Center, who are "building an ecology of practices for imagining and making the worlds we inhabit" through Atelier-based learning.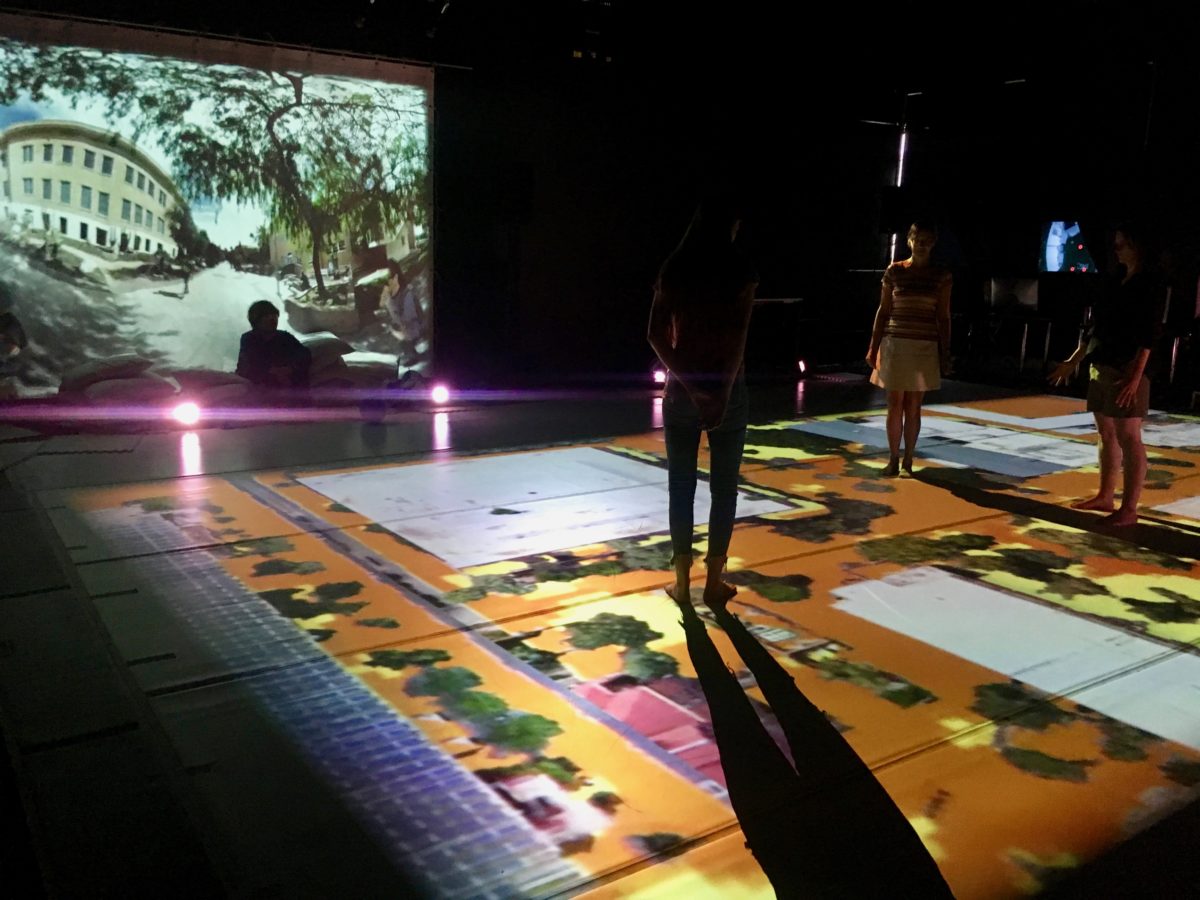 To familiarise ourselves with each other's perspectives, experiences and approaches we presented previous and current work. Presentations included participatory mapping of industrial ecologies in the UK and microbial mapping in Tokyo; creation of transformational spaces to steer the eco-cultural system of Xochimilco, the last urban wetland in Mexico City; participatory agent-based modelling and visioning techniques for transboundary water management in the Mekong Basin; and META City approaches to explore the form of "possible cities" in Japan through artistic experimentation and prototyping. I presented previous work in Ethiopia with participatory video and three-dimensional modelling, and current "more-than-human" ethnographic research with Monsoon Assemblages.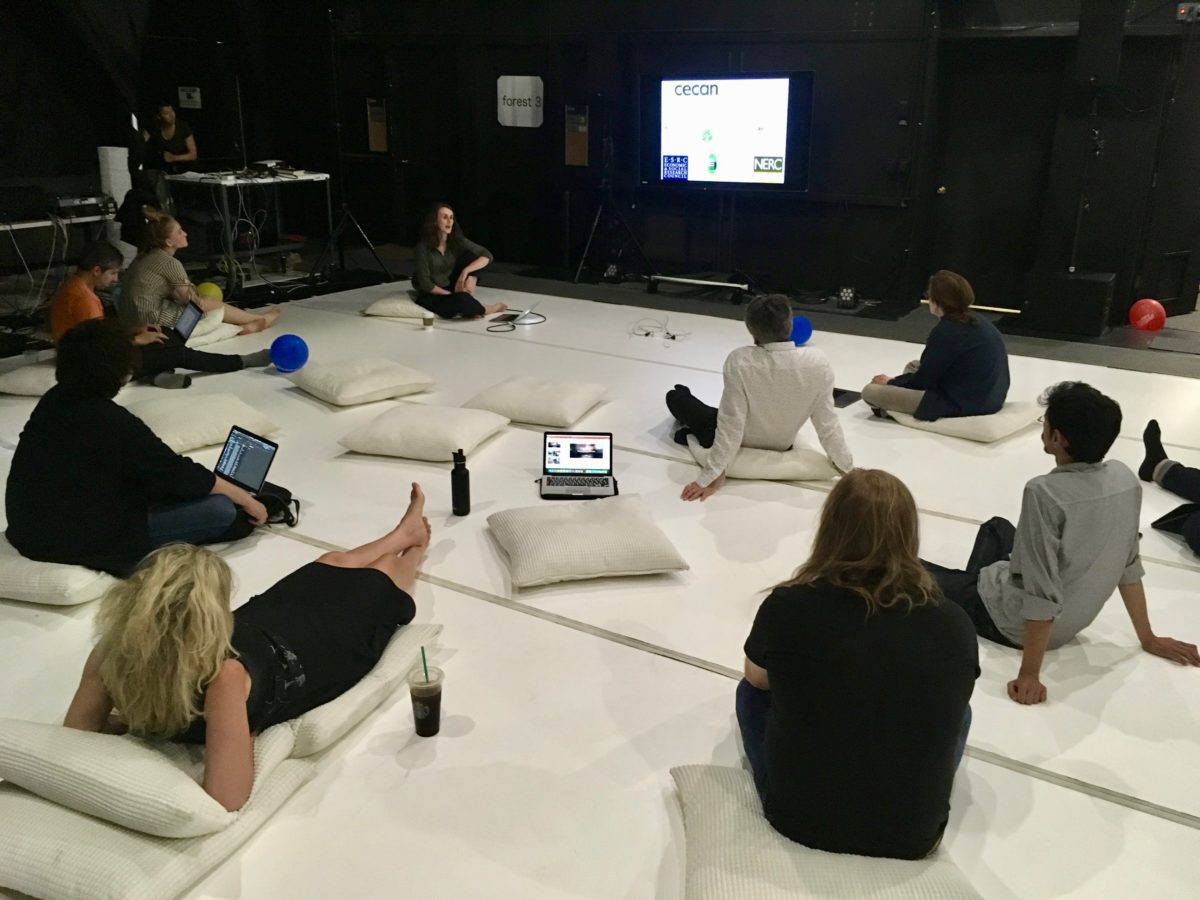 The programme for the week included an introduction to Synthesis techniques. Engaging with somatic and deep listening exercises, dance, play and immersive simulations helped us as a group to develop our thinking process. This resulted in deep conversations about agency, steering, systems and participation and the role of doing, making, sensing and representing. These conversations were guided by certain questions: What techniques and tools can we use to enable the intuitive steering of complex adaptive systems? How can a group of people with incommensurate epistemic cultures come together to develop a shared, intuitive understanding of complex systems by creating, playing, and steering experiential simulations and representations? How might we use these techniques as part of participatory processes with stakeholders dealing with "wicked problems" in diverse contexts?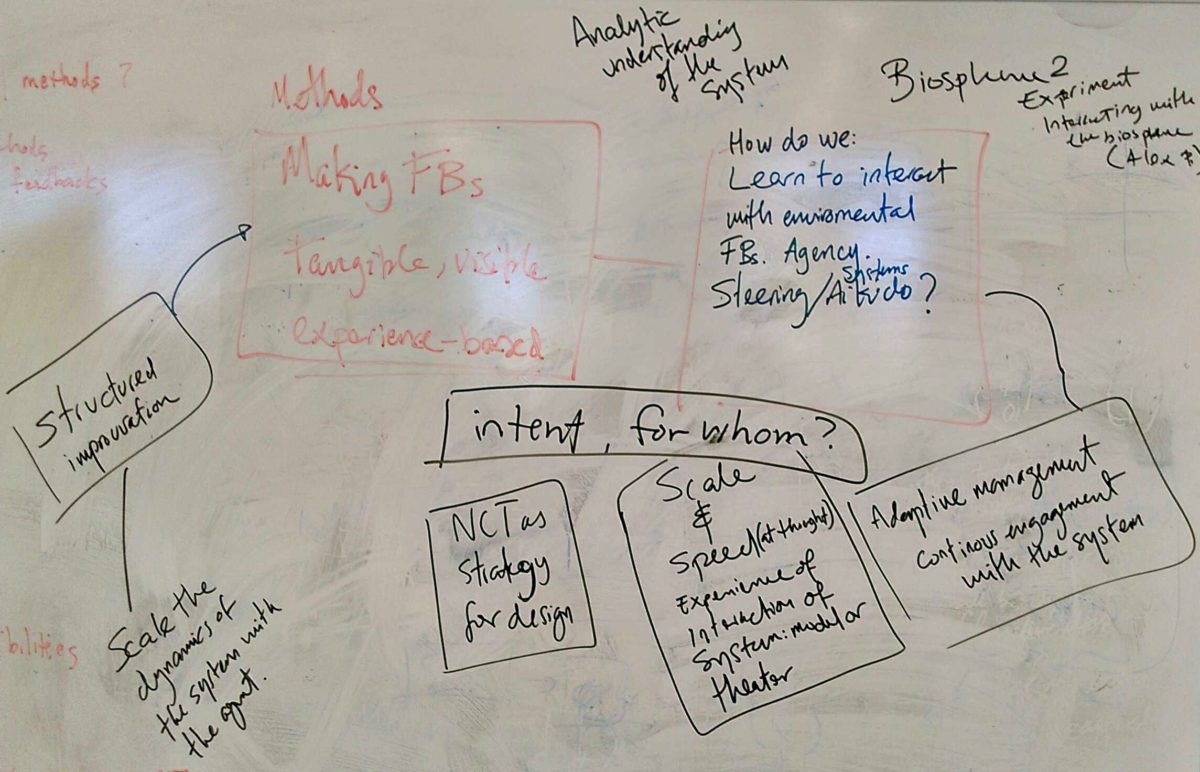 Mid-way through the workshop we visited Biosphere 2, an experimental earth systems research facility established in the 1980s. This remarkable building was once a closed ecological system, complete with "lungs" that breathe. Although no-longer maintained as a closed system, you can still feel air flows through its underground tunnels and watch its lungs expand and contract as it responds to changing pressure. The biomes house a rainforest, ocean and coral reef, mangrove wetland, savannah grassland and fog desert. It now serves as a centre for research, outreach and teaching about the Earth and its living systems. Experiencing the building with its vibrant qualities and lively capacities, was inspiring and contributed to subsequent discussions about how we might learn to guide, nudge, garden, play and dance with the systems we are entwined within.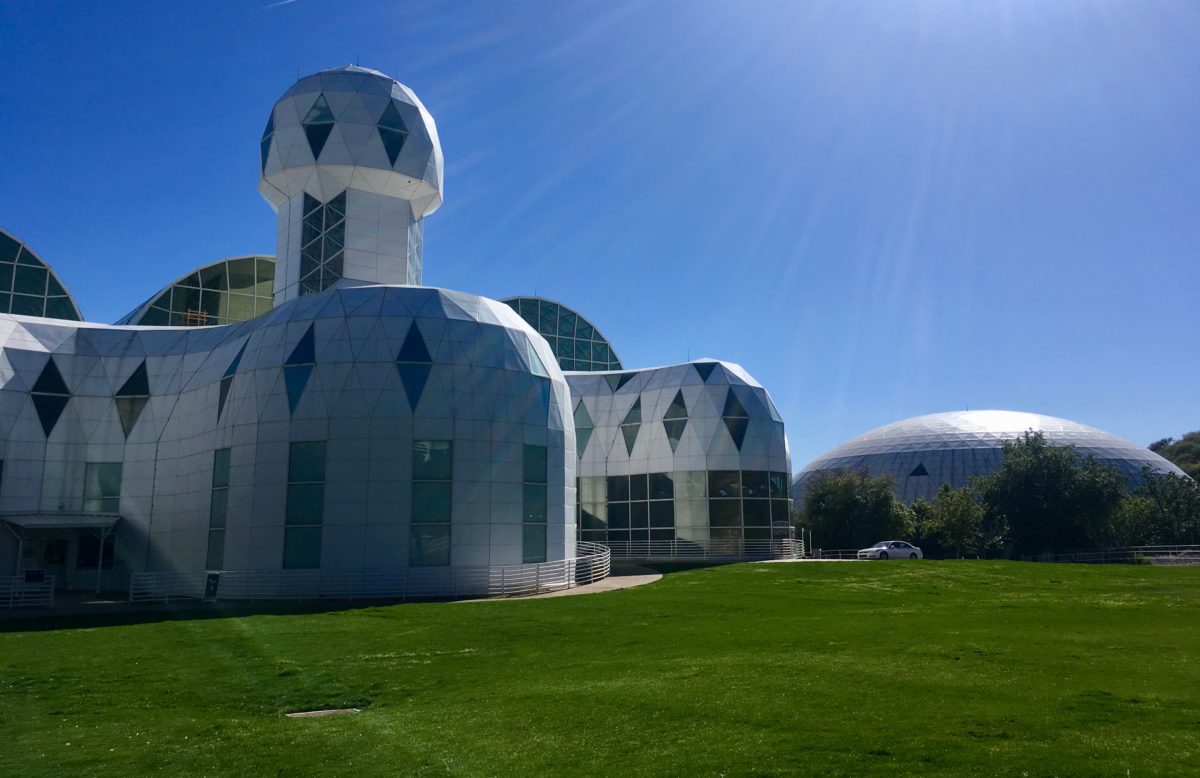 During my time at Synthesis, I was conscious that the workshop was taking place within another monsoon climate – that of the Arizona desert. My conversations with local residents about the Saguaro cactus, a long-lived charismatic presence within the landscape, revealed stories of changing rainfall patterns and associated ecological entanglements. Last year Phoenix experienced its wettest October in recorded history with heavy autumn rains resulting in extraordinary wildflower blooms and rotting cacti. Such stories of seasonal slippage and extreme weather events resonate with those we have been collecting in Chennai, Dhaka and Yangon, distant geographic regions united by changing monsoon weather patterns.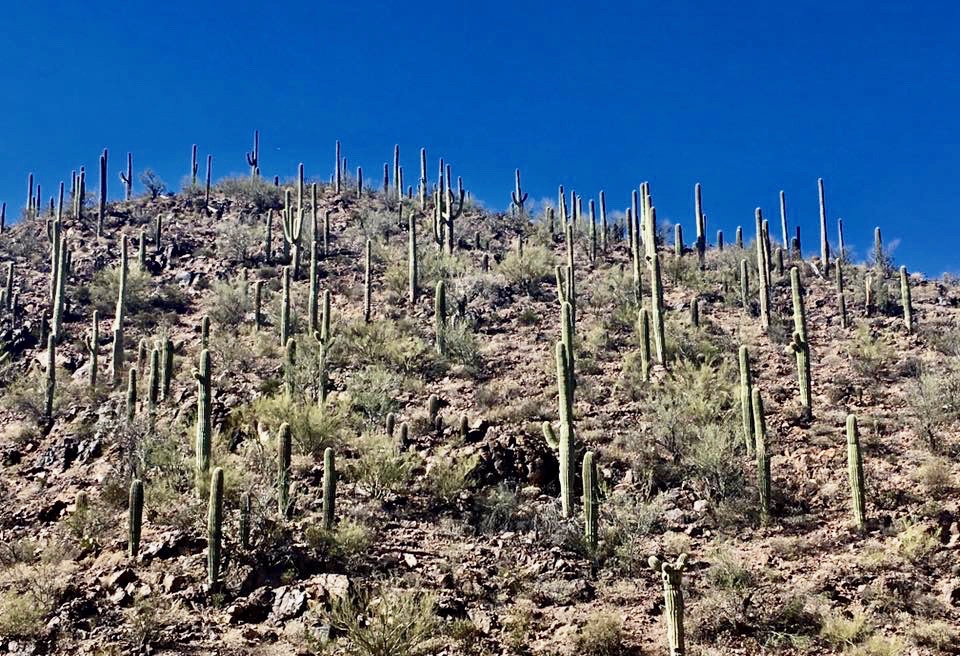 Perhaps inspired by the weather and climate of the region, one of the Centre's research strands is working to create experiential models of the atmosphere. This initiative emerged from a project called iMonsoon which explored ways of connecting everyday bodily experiences of weather with understandings of climate gained through scientific models and simulations. The work has resulted in an educational exhibit, "Who Has Been the Wind?", and a portable system that can be used as a research and educational tool for learning about atmospheric processes and experimenting with conditions for creating weather phenomena (such as convection, orographic lift, monsoons, storm fronts, and cyclones). More information can be found on the Synthesis website.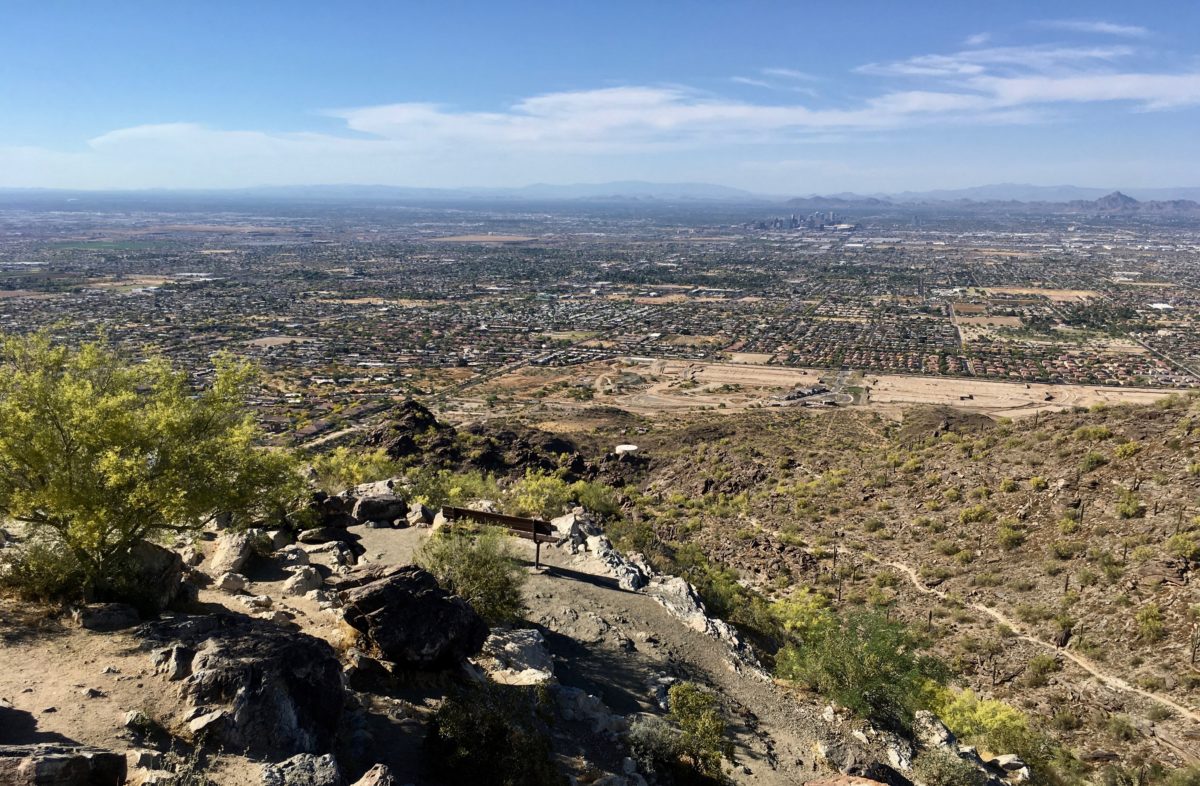 My visit ended with a trip to Dobbins Lookout, a viewpoint located within South Mountain Park which offers breathtaking views over Phoenix and the surrounding landscape. Known as one of the world's "least sustainable cities", Phoenix is grappling with water issues, like many of the cities Monsoon Assemblages is concerned with. Despite scarce water resources, the use of above-ground sprinkler systems, flooding of lawns and large-scale irrigation was evident around the city. This led me to ponder whether Phoenix might also welcome techniques for thinking about the monsoon as something to co-design buildings, infrastructures and territories with.
My trip was supported by Monsoon Assemblages and funded by the University of Surrey and Arizona State University.